| | |
| --- | --- |
| Name: | Fildo APK |
| Version: | v3.8.1 |
| Size: | 50.1 MB |
| Last Updated: | October 02, 2019 |
| Requiements: | Android 4.0.3 and up |
| Package: | Fildo.net |
| Category: | Appstores |
Fildo Apk 3.8.1
* Improved the fallback search engines, now "Not available in your country" should happen much less, although it may take time to play or start downloading.
* Deleted the sound of the notification when you start a playback.
* Improved overall application performance.
* Minor improvements and bug fixes.
Version 3.7.3 Change Log:
* Improved fallback search method
* Fixed player for Android version previous of 5.0
* Fixed issue when headphones are disconnected on Android 8.0 or newer
* Minor Improvements and bug fixes.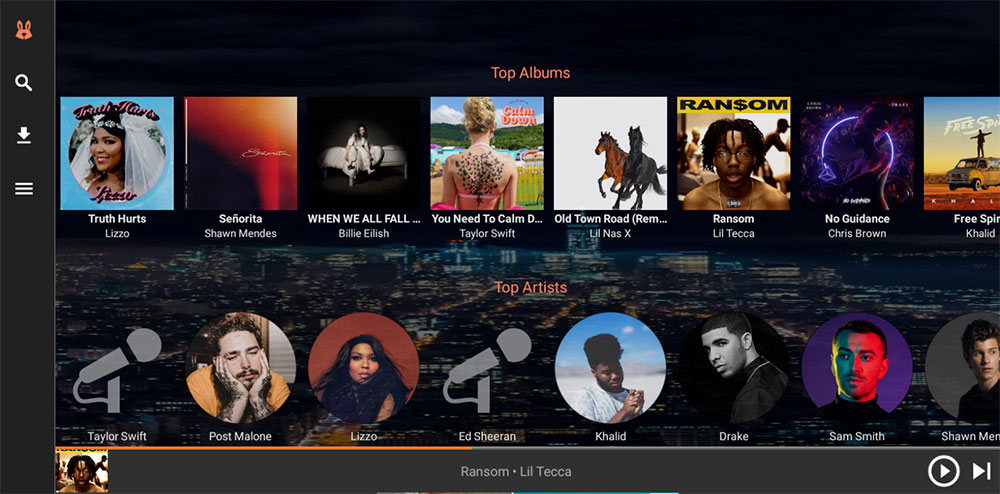 Fildo APK 
Fildo is one the best free music streaming app that is available for free. When you listen to songs using Fildo there are no interruptions like playing some advertisements. Ads may appear when you are using this app. That's why this app became one of the most popular audio streaming app all the time.
How this app provide those songs for free. This app does not host any of those songs. It bring them from different sources and shown them at one place. That make it easier to find any song you want within the app.  You can create your own playlist or collection. You can even download your favorite album and can listen to them when you are offline. This app packs lots of features and app developers keep adding new features in order to ensure good user experience.  
Features:
* Free audio streaming
* Download albums
* Download favorite song by song instead of a album
* List all your downloads at one place
* Improved search result make it easier to find any song you want.
* Built-in Music search engine
* More organize search results
* Results appear with song images or cover images
* Results appear with artist images
* Direct download songs to your device
* Listen to any song you want online.
* Can import Spotify
* Can import Netease
* Contain world top charts lists.
If you are a music lover then this app is for you. When you travel or at your free time we love to listen to songs. But making our own collection and listen to it is not practical always. Because everyday new songs are released and harder to download them or you have to pay for it. But it is more awesome to listen to collection of awesome songs on the internet. if you want to listen to foreign songs. Instead of downloading separate app for each radio station or online live song providers apps it is better to have one app that has all those features.
Fildo is one of the best free online audio streaming service for Android. You can listen to any song you want or you can download. Any song mean you can literally search songs or artist using this app. No need to buy or pay for subscriptions to listen to new songs when you want. Not new songs but also contain old and legendary songs.
Here you can download latest version of Fildo for free. Or you can visit fildo official website: fildo.net/android/en/. Fildo does not store those songs or albums. It can bring songs from various sources to one place and present you the best results.
For Windows
Do you want fildo app for Windows. Don't worry Fildo has its own separate app for windows or PC. If you think that this app is only available for Android nope. No need to install android version of Fildo on windows using bluestacks or any other Android Emulator. For this you should have Windows 10. If you have windows 10 operating system you can easily install Fildo. Note that windows version of Fildo is called "Flite Radio". 
Flite Radio is an windows application that allows you to listen music as a Radio. Flite comes from Fildo lite.
You can listen to songs worldwide and download songs using your iPhone too. Support all IOS devices like iPad. In order to download latest version of Fildo to your iPhone please click below link using your iPhone.